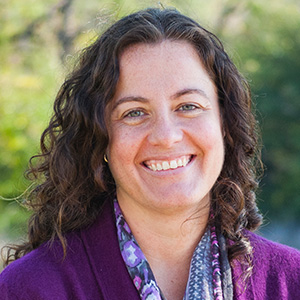 I was born in Calgary, Canada on September 14, 1971.  My parents and three of my siblings live in Calgary.  I also have a brother who lives in Regina, Canada with his family.  I have nine nieces and nephews, and they spend a lot of time together as a family.  I studied education at the University of Calgary.
I was consecrated in 1992.  I studied my first and second year of formation in Rhode Island, and as apostolate I worked in a parish.  Afterwards, I was an assistant in the formation center for one year, and another year as vice director of the pre-candidacy.  In 1996, I was sent to the formatin center in Teotepec, Mexico as an assistant.  One year later, I went to Ireland as the director of the academy.  I was in Ireland for eight years.  In the last years that I was there, we opened the Irish kindergarten.  Afterwards, I had the opportunity to return one year to formation in order to finish my studies.  I then went to Dallas for eight years as the director of formation in the Highlands School.  I was part of the territorial council in my last years in Dallas.
Looking back at these 25 years, I can see how each apostolate, each community, each country, has enriched me and how I have learned from everything and everyone, as well as seeing the hand of God that has forged me in everything.  Each change was difficult, but in each one I had the experience again and again of feeling that I was "at home" when I arrived to a new place. It was hard to leave each place, I grew fond of people, but I found the spirit of the Movement wherever I went, and this made me feel at home.
In recent years in the general council and in these years of renewal, I have been able to meet and get to know many members of Regnum Christi from different branches and cultures, and in them I have found the same resonance of the charism. I hope I never get used to seeing the beauty of this harmony in the essential that is created between branches and cultures, and our richness in diversity.
I am going to the assembly asking God to help me have an open and humble heart that allows me to listen to Him and to each member of Regnum Christi, so as to search together for the way to better serve God and his Church.
---

To complete the adoption process for this delegate please do the following
Fill out your name and e-mail
Click on the button "Adopt a delegate"
Once you have been assigned a delegate you can have him/her present in your daily prayers, offer a Rosary for him/her, pray for the fruits of the renewal process while asking the Holy Spirit for enlightment, make sacrifices and mercy acts in his/her name.
---