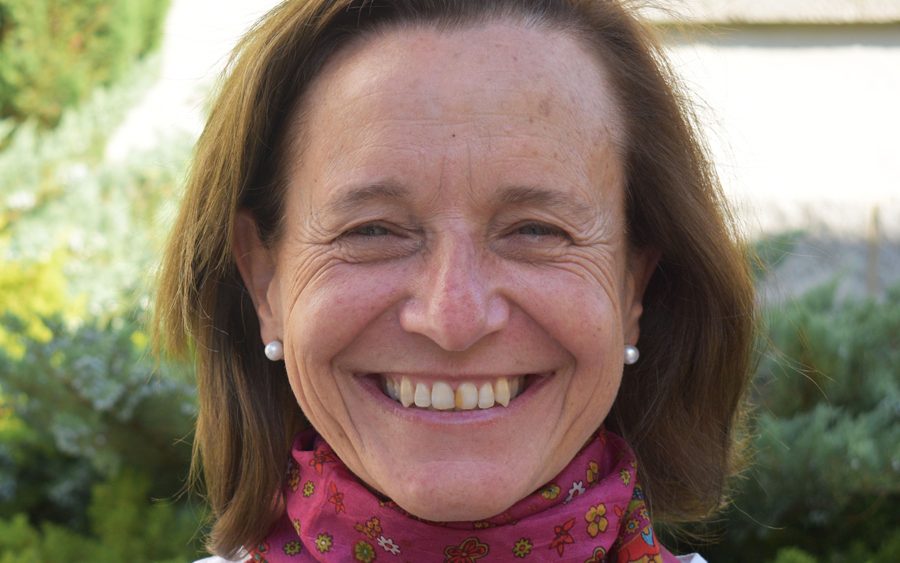 I am África Pemán.  I am 52 years old.  I was born on September 14, 1965.  I have been consecrated in Regnum Christi for 32 years.  I was consecrated on November 24, 1985.  I was born in Cádiz, Spain.  I am the oldest of seven children.  All of my siblings are married.  My mother died in November of 2014.  My father will be 80 years old in a few months.
Currently, I am serving in Regnum Christi as the territorial director of Chile, which includes Chile and Argentina.  There are three communities of consecrated women in the territory.  Thanks be to God; I am able to be with these consecrated women a lot.  I belong to the community of Domus Mariae San Carlos of Apoquindo in Santiago, Chile.  It is a numerous community with a lot of internationality and a great human as well as spiritual richness.  I experience profound human and spiritual ties with the consecrated women in my community.  I also have these ties with the consecrated women in the other communities in the territory.
I began my years of consecrated life with three years of formation in Rome.  Afterwards, I was in Mexico for 17 years: eight years in ECYD in Monterrey, two and a half years in Guadalajara as director of the section of young women and as director of the community of consecrated women, and seven years in Mexico City as director of the Bosque School and director of the community of consecrated women.  Afterwards, I was in Madrid for seven years as director of the Highlands School (Encinar).  Since December of 2012, I have had my current mission as the territorial director of Chile and Argentina.
Regnum Christi did not exist in my hometown.  My first contact was through some Legionary of Christ priests who were part of a vocational road team.  They ended up becoming a part of my family.  They helped me to know about Regnum Christi, to become a member, and then to begin ECYD in my hometown.  From the beginning of my vocation in Regnum Christi, and afterwards throughout my years as a consecrated woman, I have always felt part of a family.  I have been able to live, enjoy and experience the importance and the complementarity of each of the vocations that are within the Movement.  The last of the vocations that I discovered and have been able to have more contact with, has been the lay consecrated men.  They are an immense blessing!
I am going to the Assembly with a lot of trust, because I see clearly that God's Providence has guided us and that He keeps guiding us.  I trust enormously in the Church as the mediation that allows us to live God's plan for our lives.  With the opportunity to ask for prayers from all of the consecrated women, I ask that they pray that God purifies the hearts of all of us that will participate in the Assembly so that we can have an attitude of profound and active listening so that Christ reigns in the Assembly, and that through the action of the Holy Spirit He will show us the next step that we have to take.  And so we can take that step with great responsibility and with enormous peace.
---

To complete the adoption process for this delegate please do the following
Fill out your name and e-mail
Click on the button "Adopt a delegate"
Once you have been assigned a delegate you can have him/her present in your daily prayers, offer a Rosary for him/her, pray for the fruits of the renewal process while asking the Holy Spirit for enlightment, make sacrifices and mercy acts in his/her name.
---