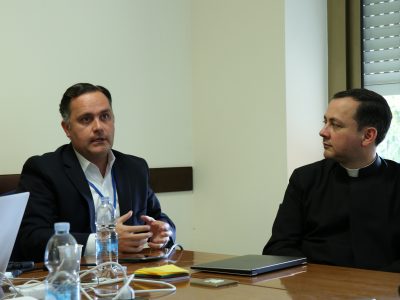 Today began with Mass presided by Father Eduardo Robles-Gil, LC, in the Basilica of Our Lady of Guadalupe and St. Phillip the Martyr. In the homily, Father John Connor, LC, invited the delegates, "Let's be men and women of hope in God, of interior life, and who allow the action of the Holy Spirit to work through us."
The homily text is available online: Homilia P. John Connor L.C. 17 abril
After Mass, the delegates held a plenary session, continuing where they left off, with team presentations, the previous day. One particular point discussed was the role of lay members, both, in the federation and in works of apostolate.
The delegates had a break after the plenary sessions. Then the delegates divided into groups by branches (Legionaries of Christ, Consecrated Women, Lay Consecrated Men, and Lay members) to continue reflecting on the topics given out yesterday.
After lunch, there was another opportunity for Adoration of the Blessed Sacrament to offer the work of these days to God, and to ask the Holy Spirit to enlighten the delegates in discerning what God wants for Regnum Christi.
In the afternoon, meetings continued by branches.  At the end of the day, they again met in a plenary session to review the second version of the General Assembly's draft communiqué prepared by the drafting commission. After finishing the review of the document and voting, the activities of the eighth day concluded. Father Ghirlanda was there all day, accompanying the delegates.
About the Extraordinary General Assembly:
The communications in these days regarding public proposals show a strong convergence between the different branches of Regnum Christi (Legionaries of Christ, Consecrated Women, Lay Consecrated Men, and lay members) on the existence of a common charism and mission. The Legionaries of Christ have expressed themselves on this subject in continuity with the General Chapter of 2014, and have reiterated that the Legionaries belong to Regnum Christi, both being inseparable realities.
More info is available at www.rcstatutes.org. Click her for today's photos.