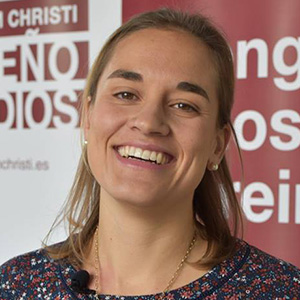 I am from Mexico City.  I was born on January 18, 1983.  I come from a family that is part of Regnum Christi, so I have breathed this "air" since I was little.
I was consecrated on August 22, 2001.  My apostolic experience includes the following.  I was an assistant in the formation center in Madrid, Spain.  I have been a member of the general secretariat team and the territorial secretariat team.  I have been the director of the ECYD section as well as an assistant for ECYD in Seville, Spain.  I currently belong to the community of Mirasierra in Madrid, Spain where I am studying a doctorate and am also a member of the auxiliary team for young women.  I am also a professor at the University Francisco de Vitoria.
The current work in the sections of young people in Madrid, without excluding difficulties, is a constant search to live communion, to give life to the charism, to find more and better ways of reaching young people.
I ask for prayers for us to listen to God who reveals himself as, when and where he wants, beyond our schemes or expectations.
---

To complete the adoption process for this delegate please do the following
Fill out your name and e-mail
Click on the button "Adopt a delegate"
Once you have been assigned a delegate you can have him/her present in your daily prayers, offer a Rosary for him/her, pray for the fruits of the renewal process while asking the Holy Spirit for enlightment, make sacrifices and mercy acts in his/her name.
---