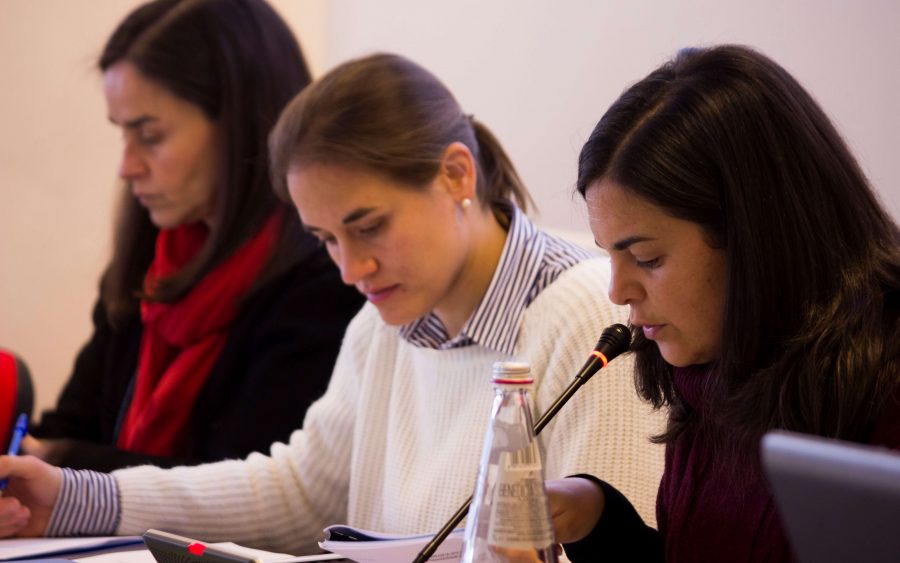 March 27, 2018- The day in review
The delegates began the first plenary meeting of the second day of the Extraordinary General Assembly with a song invoking the Holy Spirit.
It is Holy Tuesday, and the general director, Gloria Rodríguez, began the meeting with a reflection on the worship that is pleasing to the Father, which consists in welcoming and embracing the love of God the Father in every circumstance as children, to live life in Christ.
Viviana Limón explained the process of drafting the General Statutes of the Regnum Christi Federation. Among other things it began with the 2004 Statutes of Regnum Christi and the other institutional texts of the Movement, the minutes of the territorial assemblies and the guidelines of the Pontifical Assistant and the CICLSAL. She explained the challenges faced in the elaboration of the Regnum Christi statutes, and described the topics in which there is consensus among the branches and those in which consensus has not been reached, as reflected in the minutes of the territorial assemblies.
Viviana Limón explained, in addition, how the Regnum Christi Rule of Life has been elaborated, as it will be proposed to the General Assembly of Regnum Christi. Finally, she answered the delegates' questions that focused mainly on seeking a better understanding of the concepts of federation and movement, and the role of lay members in Regnum Christi.
Pía Pérez explained the implications it would have for our own proper law to adopt the juridical configuration of a Society of Apostolic Life, as proposed by the general government. It corresponds to this extraordinary assembly to revise or change or check only that which must be modified if we choose to change juridical status. In the ordinary general assembly of 2020, the Statutes of 2013 that were approved ad experimentum will be revised in depth.
The afternoon meetings were dedicated to working by groups, to analyze the most suitable canonical configuration proposals for the consecrated women of Regnum Christi at this time.