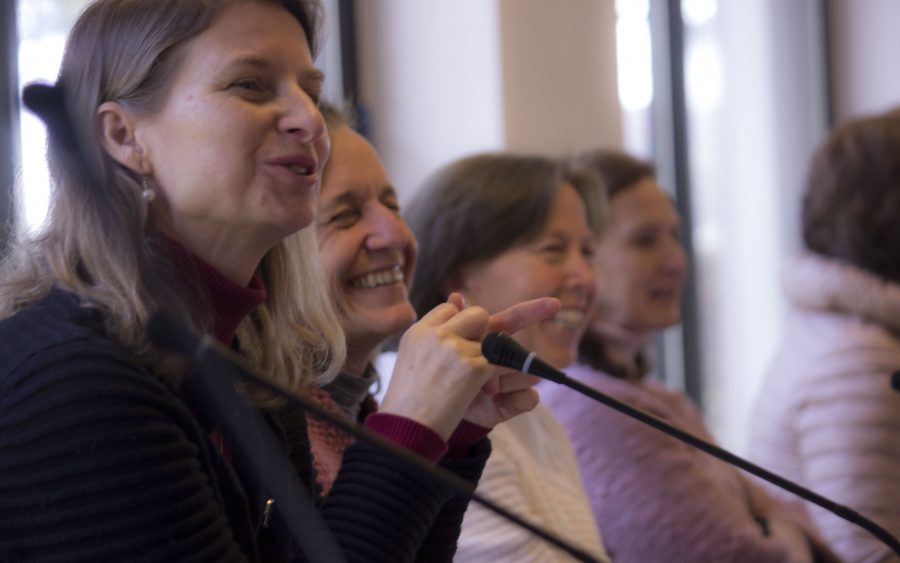 March 26, 2018 – The Day in Review
The Extraordinary General Assembly of the Consecrated Women of Regnum Christi began with the Eucharistic Celebration and the invocation of the Holy Spirit with the song «Veni Creator«. The community of lay consecrated men of Rome accompanied the Assembly in this opening Mass.
Gloria Rodríguez, after reading the list of forty delegates, the two representatives of temporary vows and presenting the guests, declared the Extraordinary General Assembly open and valid. In her introduction, Gloria proposed two passages of Scripture as a framework for the discernment that the Assembly will do during these days. The first is the theme chosen for the General Assembly of Regnum Christi, in addition to the Assembly of our branch: «Fan into flames the gift of God in you» (2Tim 1, 6). The vocation is a gift that God has given us, to live the following of Christ, and to share our vocation with the other consecrated persons and with the members of the other branches of Regnum Christi. The second passage that she proposed as a context for the Assembly is «Remain in my love» (Jn 15: 9-11). Gloria invited all the participants to always keep in mind that our goal is to live life in Christ, to remain in his love.
The delegates today elected the members of the Central Commission. The Central Commissionresponsible for helping the president to direct the work of the assembly, and it functions as a collegial body. The commission is composed of Gloria Rodríguez, president, Viviana Limón, member of the editing team of the draft General Statutes of Regnum Christi, and three members elected by the delegates: Nancy Nohrden, Carmen Ramírez and Cecilia Ruiloba, who is the elected secretary.
Jorge López, general director for the Lay Consecrated Men of Regnum Christi, was present during the meetings of the day. He presented the conclusions of the assembly that the lay consecrated men held in December 2017 to the Extraordinary General Assembly. In the afternoon, Fr. Gianfranco Ghirlanda, SJ, pontifical assistant for Regnum Christi, presented the historical development of the work that the Regnum Christi General Committee had done for the juridical configuration of Regnum Christi. He explained the reasons why he had proposed to the Holy See that a federation be constituted among the Legionaries, the consecrated women and the lay consecrated men, to which the laity could associate individually, although the reality of the Regnum Christi Movement is broader than the federation. At the end of his presentation, Fr. Ghirlanda answered questions from the delegates.
The day concluded with a round of interventions by all the participants, in which they shared their frame of mind as they begin the assembly.
The Assembly has the responsibility to find the most appropriate juridical configuration for the Consecrated Women of Regnum Christi, which also corresponds to their way of participating in Regnum Christi.